Covid 19;Churches, mosques will remain closed in Lagos state - State Government
The Lagos government on Tuesday, June 2, made known its position on the likelihood of lifting the coronavirus-induced ban worship centres like churches and mosques.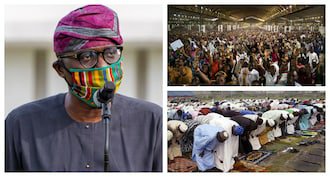 Speaking on Tuesday, Prince Anofiu Elegushi, the commissioner for home affairs, stated that because the epicentre of coronavirus, Lagos isn't yet ripe to contain the danger involved in allowing religious gatherings again for now.
Elegushi acknowledged that the agreement to stay worship centres shut until further notice was reached at the 2020 ministerial press briefing convened to honour Governor Babajide Sanwo-Olu's first year in office, The Guardian reports.The commissioner said that a lot of religious leaders within the state have claimed that they can't take the responsibility of ensuring compliance with social-distancing rules by their congregations.
He, therefore, noted: "So within the meeting, we ruled call at totality the difficulty of reopening the religious houses until we've a transparent coast for us to try to to so.
The federal mentioned it, but it never ruled out the state in achieving that pronouncement, so all states will need to check out the likelihood of doing so in their respective states."